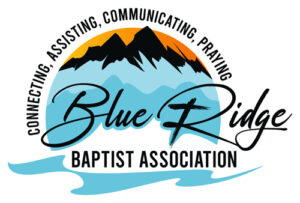 Moments with Your Mission Strategist
Dr. Dennis Love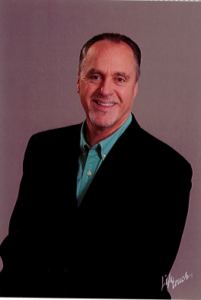 "Big Rocks"
Steven Covey wrote a book about how people need to prioritize things. He illustrated his point by saying that a professor walked into his classroom with a wide-mouth jar. In that jar he put some big rocks and asked his students, "Is this jar full?" They all nodded their heads in agreement that the jar was indeed full. The professor then replied, "No, the jar is not full."
The professor then took some small stones of gravel and sprinkled it on top of the big rocks and shook it down and smoothed it off. Then he asked his students, "Is this jar full now?" Once again, they nodded their heads in agreement and said, "Yes, it's full now." Once again, the professor replied, "No, the jar is not full." Then he took some sand and poured it over the top of the gravel, shook it down good, and smoothed it off.
When he asked the students if the jar was full, some of the students were hesitant to answer because he had proven them wrong before. He said, "I'll answer for you. It's not full yet." Then he poured some water over the sand, and the water filled every little crevice within the jar. Then he asked his students, "Now is this jar full?" With hesitation, they nodded their heads yes. The professor then said, "You're right! The jar is now full. What is the lesson?"
One student lifted his hand and said, "Things are not always as they appear to be." Another student said, "There's always room for more." The professor said, "These are all good things, but that is not the real lesson. The real lesson is this: If I had not put the big rocks in first, it would be too late to put them in."
What are the big rocks in your life?
Being a good person?

Doing good deeds?

Being a better spouse or parent?

Reading your Bible?

Going to church every time the church doors are open?

Taking on various positions within the church?

Encouraging other people?

Sharing your faith with others?
All these things are very good things and very commendable things. However, none of these things are the "Big Rocks" in my life or your life. A lot of things that we think are important in our lives will turn out to be gravel, sand, and water. What are the "Big Rocks?" It all boils down to this one great "Big Rock."
Get right with God by giving your heart to Jesus Christ. If this has been settled in your life, you are then ready for everything else God would desire for you to do and to be!
Your association is all about coming alongside our churches by equipping and assisting you in carrying out that "Big Rock" experience in your church, your community and beyond. Thanks for supporting your Blue Ridge Baptist Association!
LEAH R. KELLEY MA LCMHC
Leah is the counselor at Hope In Christ Counseling.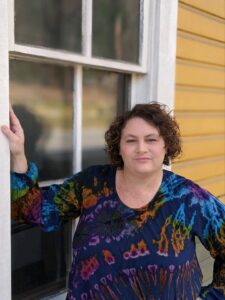 Her office is located at 130 Logan Street, Marion.
Phone number is 828-559-7710.
"VULNERABILITY"
Vulnerability is the quality of being easily hurt or attacked. Brene Brown said, "Vulnerability is the core of shame and fear and our struggle for worthiness, but it appears it's also the birthplace of joy, of creativity, of belonging, and of love."
One of the difficult parts of my job as a counselor is listening to the heart wounds that clients carry with them. More times than not, clients have been wounded in childhood and carry those wounds with them throughout life. These wounds often stem from family dysfunction. Teaching clients to set boundaries, break family patterns of dysfunction, and to find healthy support systems are a big part of the work we do together.
One of the current buzz words in therapy is "shame". As humans, shame can keep us stuck and prevent us from reaching out to others for fear of being unworthy or undeserving. My pastor often says that 'God created us for relationship' so that we can help one another. However, if we are stuck in that shame, then we often don't reach out to those around us who can and are willing to help us.
Vulnerability is hard and uncomfortable. We don't like being hurt or attacked. Yet, when we don't allow ourselves to be vulnerable, we often miss God's blessings of friendship, and most importantly, encouragement from other believers. The Bible tells us to seek Godly counsel, "Where there is no counsel, the people fall; But in the multitude of counselors there is safety." (Proverbs 11:1 KJV). This Godly counsel is referring to other Christians rooted in God's word. Seeking counsel with someone, whether it's a pastor, an actual counselor, or just a friend, we must be willing to share our hurts and attacks with them.
Recently, a friend of mine, I'll call him, David, had a parent pass away. David came from a family that was broken. At the funeral, none of David's biological family attended. I felt my heart breaking for David, as he shared in that moment, he felt hurt, attacked and ashamed. However, David had a community of other believers in his life. These were people he shared his life and his vulnerabilities with. I watched as these special Christian friends attended the funeral. God sent these people to stand in the gap, because my friend allowed himself to be vulnerable. The Bible says in Proverbs 17:17, "A friend loves at all times and a brother is born for adversity" (NKJV).
I have found in my own life that God provides comfort and friendship when I allow myself to be vulnerable. My hope as a counselor and particularly a Christian counselor is to help provide tools for my clients to make healthy choices. This includes teaching clients to develop healthy friendships, to be vulnerable with safe people, to find a Spiritual community that will support and love them so that they are able to heal from their wounds of the past. And most importantly, I want to always direct them back to God and His word.
BRBA RECEIPTS JANUARY 2023 THROUGH MARCH, 2023
| | | |
| --- | --- | --- |
| Indiv./Business Contr. | $ 150.00 | |
| Ashworth Road | $ 526.20 | |
| Bethel | $ 750.00 | |
| Bethlehem | $ 50.00 | |
| Calvary | $ | |
| Catawba Heights | $ 929.28 | |
| Chapel Hill | $ 694.25 | |
| Cherry Springs | $ 848.32 | |
| Clinchfield | $ 333.34 | |
| Cross Memorial | $ | |
| Dysartsville | $ 300.00 | |
| East Marion | $ 166.66 | |
| Friendship | $ | |
| Garden Creek | $ 255.00 | |
| Glenwood | $ 4532.16 | |
| Grace Community | $ 2400.00 | |
| Greenlee | $ 1500.00 | |
| Hankins | $ | |
| Harmony Grove | $ | |
| Macedonia | $ 300.00 | |
| Marion First | $ 499.97 | |
| Nebo First | $ 657.00 | |
| New Horizon | $ 300.00 | |
| North Cove | $ 225.00 | |
| Old Fort First | $ 1118.07 | |
| Pleasant Gardens | $ 845.84 | |
| Sugar Hill | $ | |
| Vein Mountain | $ 300.00 | |
| West Marion | $ 212.01 | |
| Total Contributed Support | | $17,893.10 |
Thank you for your faithful support of BRBA!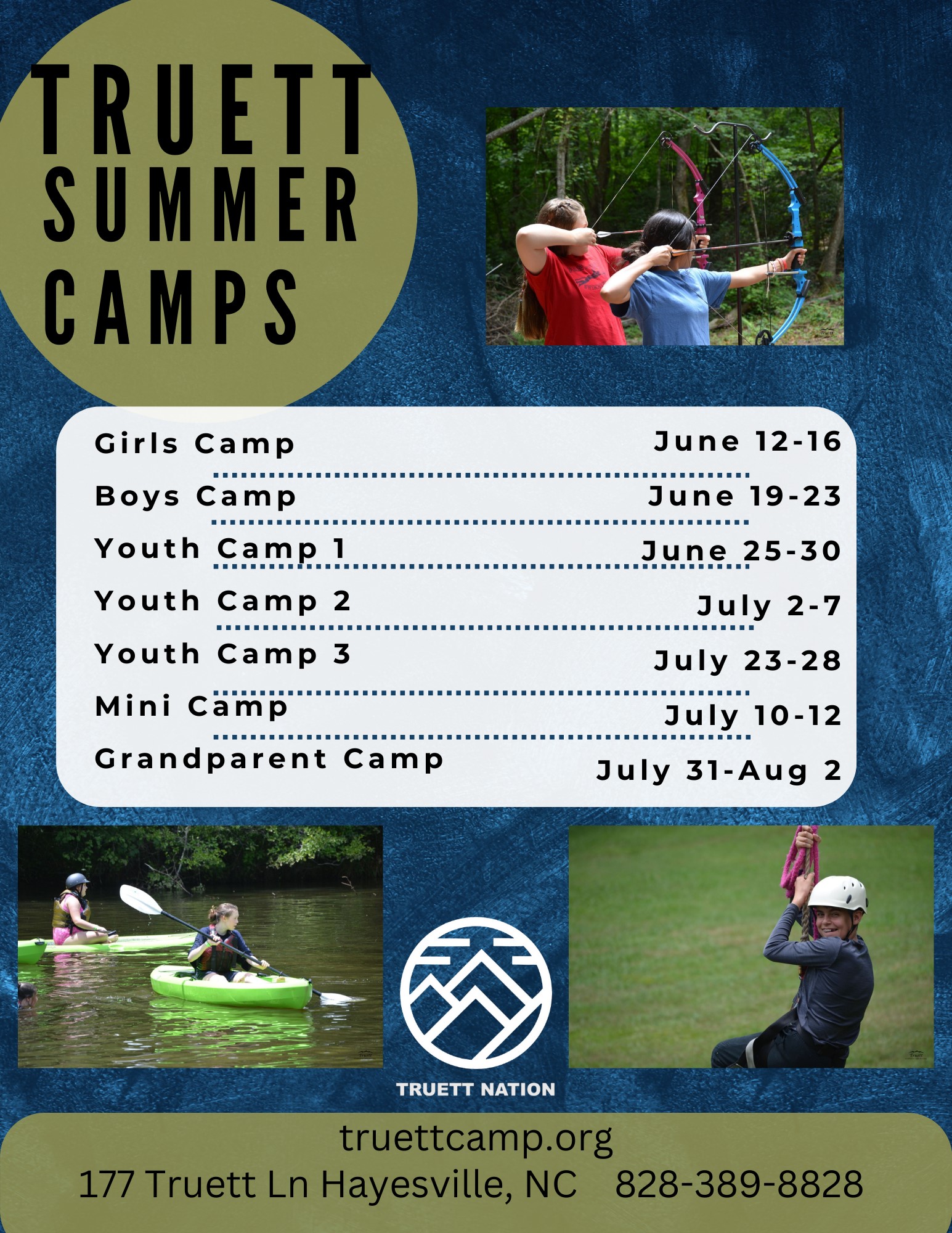 MAY BIRTHDAYS
Mrs. Brianna Watson (Chapel Hill) 06
Rev. Richard Merritt (North Cove) 25
Rev. Danny White (Hankins) 28
MAY ANNIVERSARIES
Dr. and Mrs. Dennis Love (BRBA) 17
Rev. and Mrs. Jonathan Tipper (Greenlee) 20
JUNE BIRTHDAYS
Mrs. Rhonda Tipper (Greenlee) 10
Rev. Andrew Walker (East Marion) 22
JUNE ANNIVERSARIES
Rev. and Mrs. Freddie Williams (Harmony Grove) 26
MISSION DIGNITY SUNDAY JUNE 25, 2023
Churches and believers across the nation join together for our annual one-day giving event to support retired Southern Baptist ministers, workers and their widows in critical financial need through the ministry of Mission:Dignity. Information on how to give and promotional materials are available at https://www.guidestone.org/Mission-Dignity.

North Carolina Operation Inasmuch-(NCOIAM) is a one-day missions blitz in your community. Imagine your whole church active in missions in your community! Choose the date(s) that best fit your church calendar or participate on APRIL 29 and MAY 6, 2023 with hundreds of churches across North Carolina.Ideas to get you started: Paint a porch, Prayer Walk, Sew lap blankets for nursing home residents, Offer quarters to someone at a laundromat. More ideas can be found at: https://baptistsonmission.org/Mission-Projects/Local-Ideas
CHURCH NEWS
Cross Memorial Baptist – Will hold a yard sale on Saturday, May 27 from 71m-12pm. If you would like to come to sell your items, the cost is $10/table. This event will be held rain or shine. No food or drink vendors are allowed. Please contact Kayla Dingus at 828-652-6315 if you would like to reserve a table. All donations go toward our CrossKids ministry.
Bethlehem – Old Fashioned Sunday Service June 25
Macedonia – Will be celebrating Homecoming May 28, 11:00 a.m.
Dysartsville – Will be having Homecoming service May 21. The Blairs will be singing at 10:00 a.m. and the worship service will be at 11:00 a.m. Lunch will follow the worship service.
Nebo First – Will be having a hamburger/hot dog fundraiser for Jeff and Carmen Hall on May 6, 2023. Serving will begin at 11:00 a.m. and last until the food is gone.
North Cove – Will be having a rummage sale on Friday and Saturday, April 28 and 29 from 8:00 a.m. to 4:00 p.m. Will be held inside. All donations will go toward the cost of painting the church van.

July 3-8, 2023
World Missions Week is one of the original historically celebrated summer weeks at Fort Caswell. This summer we will offer programming for Kindergarten through Adult. We aim for quality Bible studies, missions learning opportunities, exceptional preaching and life-enriching worship. Interact with missionaries and church leaders as they share about exciting opportunities for involvement in state, national, and international missions. Open to all ages. Registration information: Contact at NC Baptist Assembly at 910.278.9501 or go to www.fortcaswell.com. For program information: contact Rick Trexler at ricktrex@gmail.com or 919.917.4419.
SENIOR ADULT SPRING FLING
We hope you will plan to join us Thursday, June 8th at Old Fort First Baptist Church.
10:30 a.m. Program
11:30 a.m. Picnic in the Fellowship Hall will follow the program
Hankins Baptist Church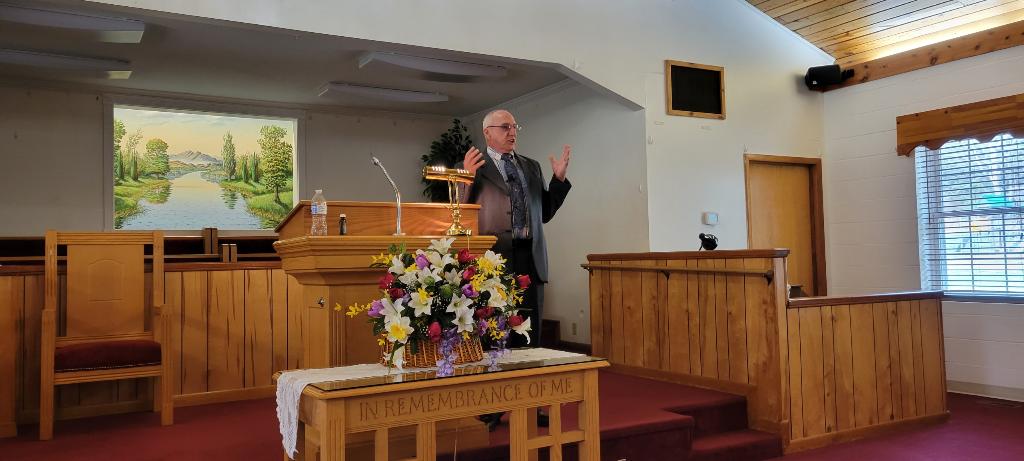 I was recently blessed to worship with the good people at Hankins. Pastor Danny preached from Titus 2:11-15 on "The Kind of Salvation We Should Want." He reminded us that we should want a salvation based on the Word of God, a salvation that will take care of our sin, a salvation that we can enjoy, a salvation that makes us love and forgive, and a salvation that is going to take us to Heaven.
Ashworth Rd. Baptist Church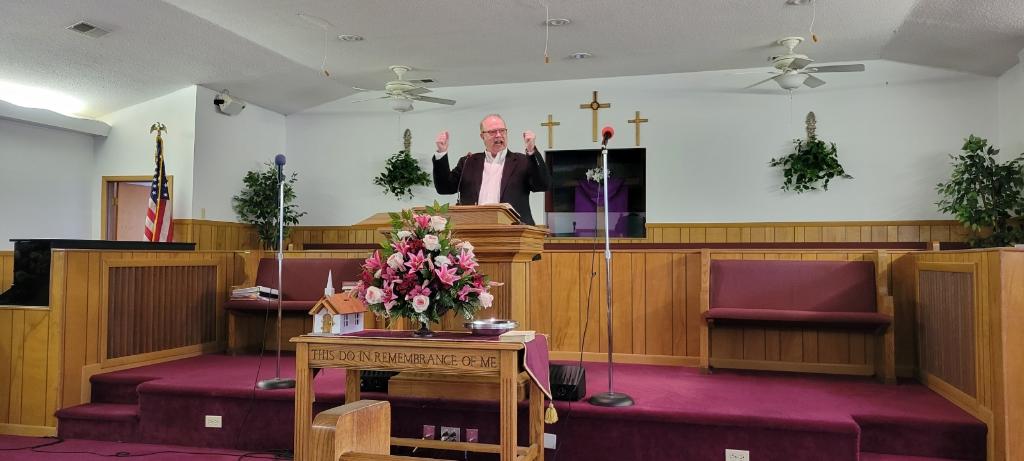 It was a blessing to recently worship with the good people at Ashworth Road. Pastor Gary preached from Matthew 26:62-68 and shared some lessons we can learn about the illegal and unjust trial of Jesus. It was a very timely message as we were quickly approaching Easter. Keep Pastor Gary and Ashworth Road in your prayers as they are seeking the Lord in ways to grow their church.
Grace Community
It was a joy to be with the good people at Grace Community and worship with them on Easter Sunday. Pastor Jerry began a new sermon series in Daniel called, "Faithful in a Faithless World." His sermon came from the first chapter of Daniel entitled: "How God Works". The message was spot on for an Easter crowd. Grace baptized 24 people over the Easter weekend. (Praise the Lord)
Old Fort First
I was blessed to join the good people at Old Fort First for their Homecoming on April 16th. Rev. Milton Hollifield Jr. was the visiting speaker. His message was: "The Beauty and Blessings of Homecoming." He shared an Old Testament and a New Testament story of families who came back home and had broken relationships restored, and how God is still doing the same today.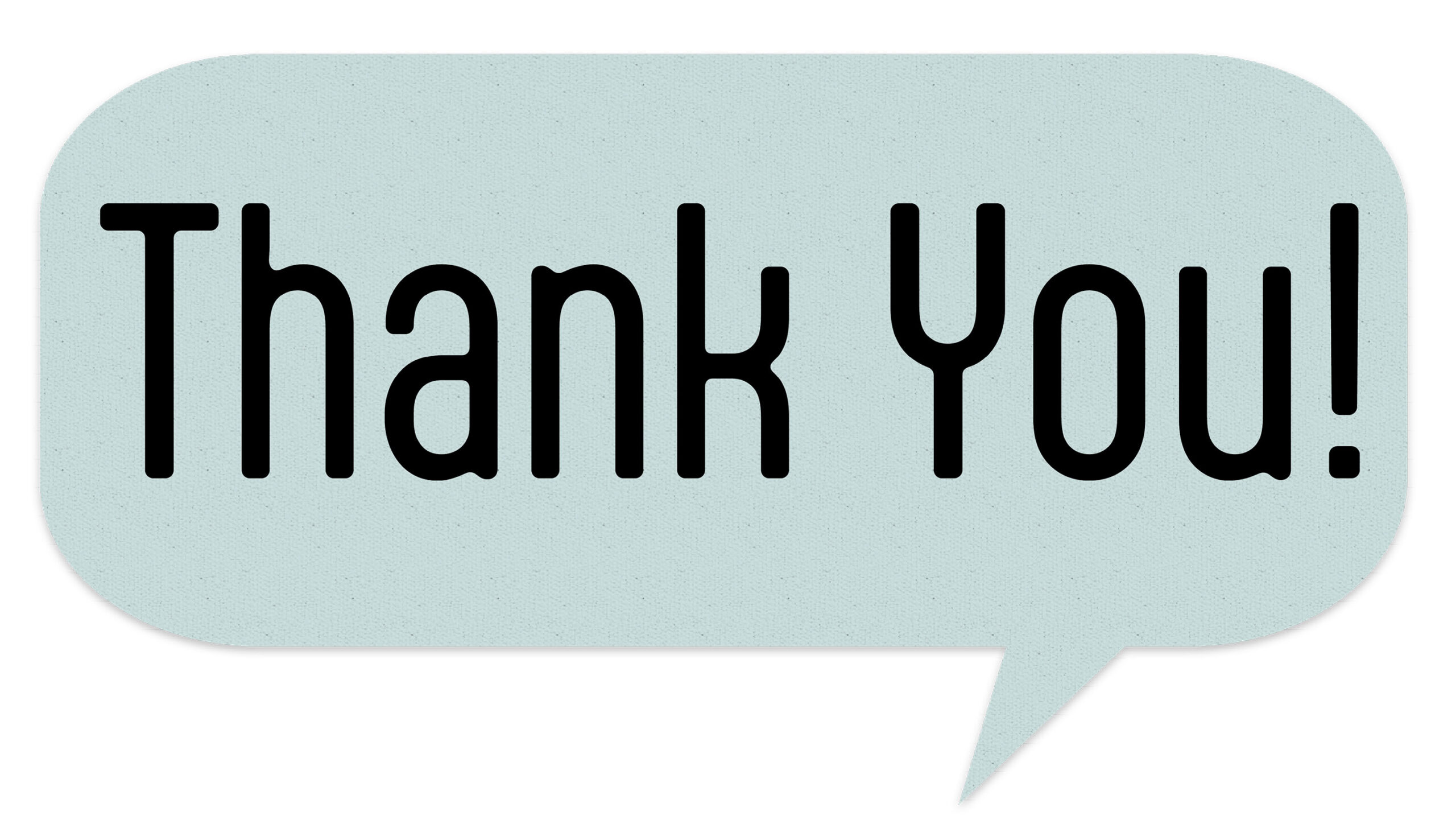 To our churches who have hosted meetings for the Blue Ridge Baptist Association this year! East Marion, Clinchfield and Hankins, you are appreciated!
OLD FORT COMMUNITY CHORUS
SPRING CONCERT/BENEFIT FOR HOWARD AND EMILY SMITH
MAY 19, 7:00 P.M.
MAY 20, 7:00 P.M.
OLD FORT FIRST BAPTIST CHURCH
Bethlehem Baptist Church
Tt was great being with the good people at Bethlehem recently at their "Bring A Friend Day" emphasis. Pastor Kevin preached from Romans 7 a message entitled; "In Need of Rescue". He reminded us that we all need to be rescued from our old sin nature and Jesus is the only One who can rescue us.
South Mountain Baptist Camp's May Workday
Date: Saturday, May 20th
Start Time: 8:30AM
Join us for our May workday as we get the camp ready to welcome over 1,500 campers this summer! We have projects ranging from devotion book assembly to cutting grass to skilled labor projects.
Lunch will be provided, so let us know if you have a group attending by calling the camp at 828-437-8788 so we can properly prepare.
If you have skilled labor members at your church that are able to attend (plumbers, contractors, electricians, etc.), have them contact Caleb so he can give you specifics on needed projects.
We are grateful for all who partner with us in this special way so that lives can be impacted for eternity this summer!
A wonderful time was had by all at the recent Senior
Adult Rally. Beautiful music and delicious food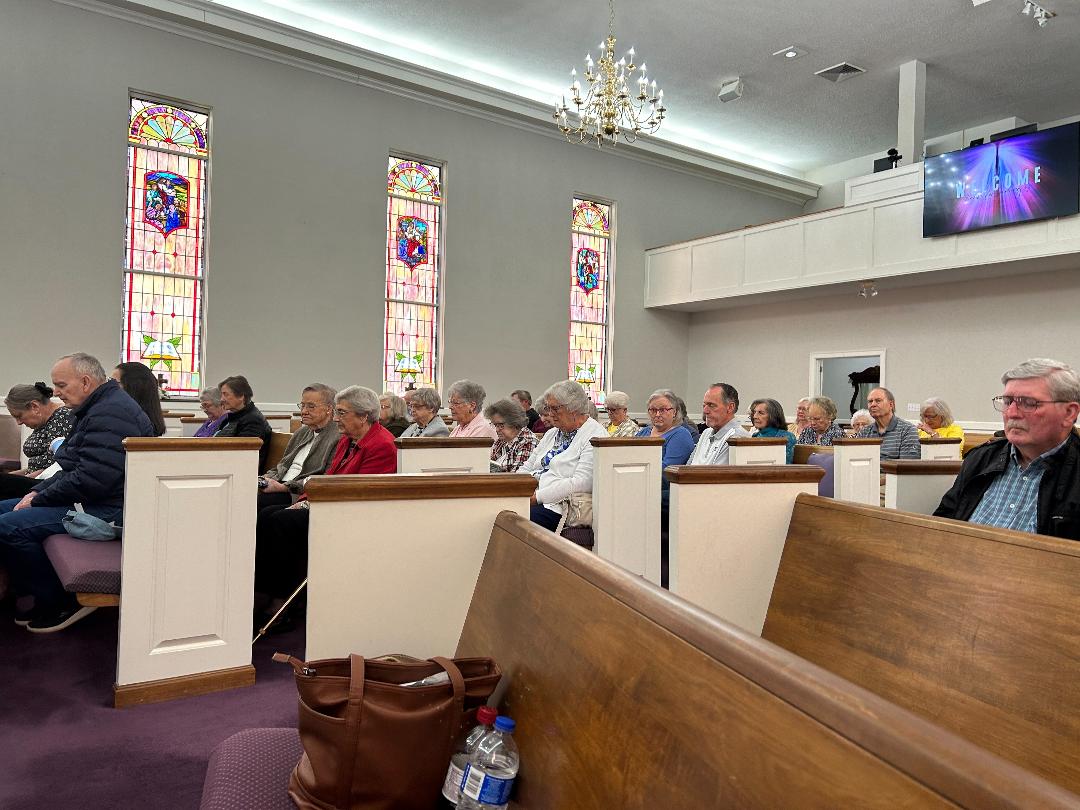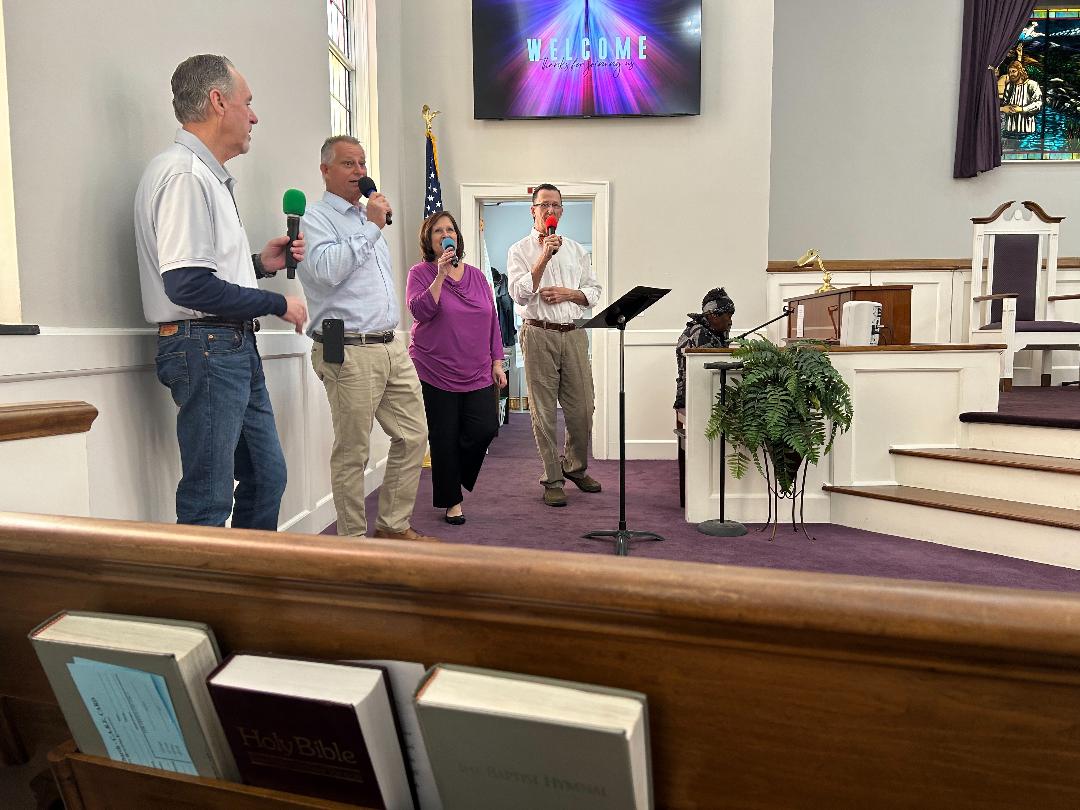 Did you know? The Appalachian region offers North Carolina Baptists an opportunity to serve Christ in one of the poorest areas of our nation. Teams are needed to serve in 2023 throughout the area. You and your church can make a big difference in this Partnership area!
Email Church Announcements for July/August newsletter to: mbrba@yahoo.com by June 15th.