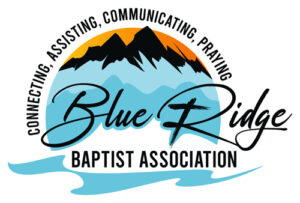 Moments with Your Mission Strategist
Dr. Dennis Love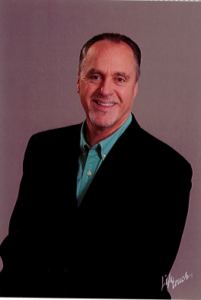 "Your Association: A Vital Part of Baptist Life"
Did you know that Baptist Associations have been a vital part of Baptist life in America for more than 400 years? Matter-of-fact, the Baptist Association served as the building blocks on which the structure and organization of Baptist State Conventions and the Southern Baptist Convention were constructed. It didn't take long for our Baptist Associations to realize that we can do so much more together than we can do by ourselves. By working together we now support more than 5,000 missionaries throughout North America, and we also support more than 5,000 missionaries internationally. No other protestant group can even come close to the number of missionaries we as Southern Baptist support financially, and the numbers we have on the mission field spreading the Good News of the Gospel of Jesus Christ. This within itself makes me very proud to be one of the more than 14.5 million Southern Baptist world-wide. You should be proud too!
At the core of every association is a fellowship of autonomous, yet cooperative churches who have joined together for the sole purpose of making a greater impact for the kingdom of God. Once again, the key idea being, "We can do more by working together than we can do by ourselves." God has used this cooperative spirit to build the largest evangelical denomination in North America.
A key component in associational life is the association's leader. While some may call that leader their director of missions, associational missionary, or use the new term, associational mission strategist, we know that individual helps the churches within the association to accomplish their kingdom purpose. As a young pastor, I relied on my director of missions for advice and encouragement. He also served as my "networker." My director of missions connected me to the resources and ministries that my church supported beyond our association. It was through the efforts of my director of missions that I built relationships with other pastors in our churches. It was through his efforts that I was linked with staff within our NC Baptist State Convention. And it was through his efforts that I learned more about the ongoing work of the Southern Baptist Convention. While technology makes information more attainable, there is nothing like having a person to call when you need advice, an encouraging word, a sympathetic ear, or someone with discernment to give you feedback about a decision or ministry opportunity. This too, makes your association a vital part of your Baptist life.
Our new associational logo will help tell you who we are as an association, and why we exist. (Connecting, Assisting, Communicating, Praying)
We are here to connect you with various ways your church can better carry out the Great Commission. We are here to assist you in understanding how your church can survive and thrive in a 21st century world. We are here to communicate with you what is taking place here in our county, and in our state to enable your church to be a better Acts 1:8 church, and to become a more mission-minded church. We are here to communicate with you how we can come together as churches and evangelize our communities and county. I will be sharing with you at our Hot Dog Rally in July how we as an association of churches can come together and saturate McDowell County with the glorious Gospel. And last but not least, we are here to pray for the pastors, staff and individual churches of our association. We are honored to connect, assist, communicate and pray for you!
The association has been around a long, long time and with the continued support and giving of the churches in the Blue Ridge Baptist Association, this association will continue to be a vital part of your Baptist life! Thanks for your giving and thanks for being a vital part of our Baptist life!
Association Calendar
July 25 Hot Dog Rally
(To announce your church events, call 559-0224 or email mbrba@yahoo.com with the information. The deadline is the 3rd Monday of February, April, June, August, October and December.)
BLUE RIDGE BAPTIST ASSOCIATION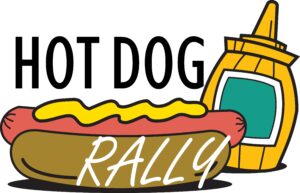 Monday, July 25th at 6:30 p.m.
Under the Jubilee Arbor at the Carson House
It's time for our churches to come together and associate! FREE Hot Dogs, Drinks, Chips and Desserts. Everyone is invited and encouraged to come out to this special Rally.
We will begin serving food at 6:30. We will follow the meal with a very brief time of business. We will end our time together with Dennis sharing how our churches can reach every home in your community with the Good News of the Gospel. McDowell County needs Jesus, and they need a church to call home. Be sure to come find out how easy it's going to be without expense to your church.
It's time for us to associate and it's time for our churches to be an Acts 1:8 church. Jesus said; "You shall receive power after the Holy Ghost has come upon you: and you shall be witnesses of Me in Jerusalem, and in all Judea, and in Samaria, and unto the uttermost part of the earth."
It all begins in our Jerusalem which is our church community and our county! COME FIND OUT HOW EASY IT WILL BE FOR US TO SATURATE MCDOWELL COUNTY WITH THE GOSPEL.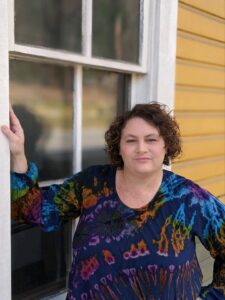 Mrs. Leah Kelley
Over the past two years, my husband, my Bible study group and I have been praying that God would open the door for the right opportunity for me to leave my previous position at RHA. In June of 2021, I was informed about Hope in Christ Counseling Center, and that they were looking for a Christian counselor. I began praying about this and reached out to Jerry Lewis for more information. I along with my husband, my Bible study group, and lots of people at church began to pray that God would lead me, and the Board of Directors at Hope in Christ in the direction that God wanted for us and them. In January of 2022, I opened a private practice here in town called "Spirit of Truth Christian Counseling." I feel God has been in this process every step of the way.
To provide a little background, I have worked in community mental health at RHA since February of 2016. I also previously completed an internship working under Dr. Terry Ledford and John Miracle in the private practice setting, at the time, called Woodridge Psychological Associates. Both John and Terry are great Christian men and have years of experience in counseling. God blessed me with the opportunity to work under them and learn from them.
My license is a Master's Degree in Clinical Mental Health Counseling. I also have taken professional training in Christian counseling courses. In addition, I have spent a great deal of time throughout my life, learning and studying the Bible, and other Christian resources. I have taught Sunday school for a large part of my adult life, and am active in my church. I am a lifetime learner and love to continue to grow personally, spiritually and professionally.
In my practice, I see children and adults, ages 5 through adulthood. I have done a great deal of my work counseling clients dealing with depression, anxiety, trauma, and anger issues. I have recently begun marriage counseling and use "Prepare and Equip" as a guide through this process. In regards to Christian counseling, I work with my clients to integrate Spiritual matters as much as possible. However, if the client wishes for this not to be a part of their session, I try to be respectful of their wishes.
My office is located across from the Marion Library in the Freedom Life Ministries building. I have a separate entrance for clients who prefer to use it. The entrance is on the side from the alley way.
If you have any questions, please feel free to reach out to me. My office number is (828) 559-7710. My email address is spiritoftruthcounseling@yahoo.com I accept referrals through both email and phone. All intake paperwork is online unless the client does not have internet access and then we will do it in their first session. You can check me out at https://leah-kelley.clientsecure.me I also have a Facebook page and group you can check-out!
I appreciate any referrals and am happy to work collaboratively to better serve the needs of my clients! I want to say Thank-You to the churches and individuals who have already been sending referrals! And I also want to express my sincere thanks to the churches who are currently supporting Hope In Christ Christian Counseling on a monthly basis!
Contact information is as follows:
130 Logan Street
Marion, NC 28752
828-559-7710
Email:
spiritoftruthcounseling@yahoo.com
Website:
July Birthdays
Mrs. Amy Conner (Cherry Springs) 5th
Rev. Kenneth Burleson (Faith) 23rd
Rev. and Mrs. Jimmy Upton 1st
(Bethel)
Rev. and Mrs. Danny White 4th
(Hankins)
Rev. and Mrs. Andrew Dalton 12th
(Old Fort First)
Rev. Jonathan Tipper (Greenlee) 4th
Dr. Jonathon Watson (Chapel Hill) 5th
Rev. Jimmy Upton (Bethel) 21st
Rev. Ryan Bennett (Cross Memorial) 27th
Rev. and Mrs. Michael Robinson 18th
(Sugar Hill)
Rev. and Mrs. Ryan Bennett 18th
(Cross Memorial)
NEW HORIZON BAPTIST FELLOWSHIP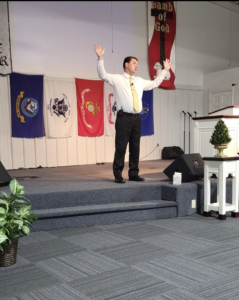 Pastor Steve Bugenhagen at New Horizon Baptist Fellowship preaching on Memorial Day, Sunday, May 29, 2022 a message on "Commitment". Thanks for reminding us Pastor Steve that we need to be committed to Jesus and His church just as much as we are committed to our jobs and other things in life. We appreciate New Horizon for supporting the work of the association and their heart in reaching out to others in their community and beyond.
FRIENDSHIP BAPTIST CHURCH
Pastor David Bradshaw on June 5, 2022 at Friendship Baptist Church, preaching a message entitled: "The Transforming Power of Faith". Pastor David reminded us if God transformed Rahab the harlot, He has done the same for us when we received Him in our hearts by faith. We are thankful for the support of Friendship and their love for God and other people.
BETHEL BAPTIST CHURCH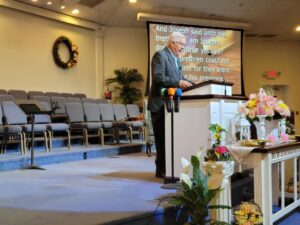 Pastor Jimmy Upton and his choir at Bethel Baptist Church. Jimmy preached on "The Gospel According to Joseph" from Genesis 45 on Sunday morning, May 1, 2022.
We appreciate Pastor Jimmy and the good people at Bethel for their support and the work they are doing for our wonderful Lord.
GLENWOOD BAPTIST CHURCH
Interim Pastor Dean Mattern at Glenwood Baptist Church preaching on Mother's Day, May 8, 2022 a sermon entitled: "The Mary Miracle". We are thankful for Dean and the support of Glenwood Baptist Church to our association, and for the many other mission causes Glenwood gives to in our county and beyond.
~~~~~~~~~~~~~~~~~~~~~~~~~~~~~~~~~~~~~~~~~~~~~~~~~~~~
GOSPEL SINGING AT MACEDONIA BAPTIST CHURCH
AUGUST 13, 1:00 PM (OUTDOORS WEATHER PERMITTING)
COOKOUT, FELLOWSHIP AND WORSHIPING THROUGH MUSIC
1372 Macedonia Church Loop, Nebo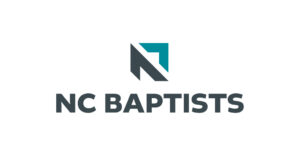 New Logo Meaning: N.C. Baptists are a movement of churches on mission together, which is depicted in the design of our new logo. The bold, sharp and angular lines form a series of arrows and shapes that represent movement and connectedness. The lines and shapes form several arrows and angles pointing in different directions to represent that we are sent out and that the gospel is advancing in a variety of ways (Matthew 28:19-20). The arrows create an abstract block "N" and inverted "C" that underscores our shared identity as N.C. Baptists.
2022 CAROLINA'S EVANGELISM CONFERENCE
July 27-July 29
Mountain View Baptist Church
5045 E. Maiden Rd, Maiden, NC
704-483-5806
Evening Services start at 6:30 pm
RECEIPTS OCTOBER 2021 THROUGH MAY 2022
| | | |
| --- | --- | --- |
| Ashworth Road | $ 1099.71 | |
| Bethel | $ 2500.00 | |
| Bethlehem | $ 345.00 | |
| Calvary | $ 250.00 | |
| Catawba Heights | $ 2431.24 | |
| Chapel Hill | $ 654.12 | |
| Cherry Springs | $ 1703.58 | |
| Clinchfield | $ 1000.00 | |
| Cross Memorial | $ 1094.00 | |
| Dysartsville | $ 800.00 | |
| East Marion | $ 666.64 | |
| Garden Creek | $ 3100.00 | |
| Glenwood | $12453.27 | |
| Grace Community | $ 3200.00 | |
| Greenlee | $ 2530.00 | |
| Harmony Grove | $ 1700.00 | |
| Marion First | $ 1333.36 | |
| Nebo First | $ 1812.00 | |
| New Horizon | $ 900.00 | |
| North Cove | $ 600.00 | |
| Old Fort First | $ 2881.37 | |
| Pleasant Gardens | $ 2041.69 | |
| Sugar Hill | $ 600.00 | |
| Vein Mountain | $ 800.00 | |
| West Marion | $ 390.25 | |
| Total Contributed Support | | $46,886.23 |
Thank you for your faithful support of BRBA!
MISSION OPPORTUNITIES THROUGH BSCNC
Armenia – Pastor's Conference and Vision Team
I will be leading a team on September 4-14 that will lead a pastor's conference in Armenia for pastors from "the south." (I can tell you more about what pastors will come if you call.) We will also lead a pastor's conference for Armenian pastors and revival services in Armenian churches. Cost is expected to be $1800. We will add team members later as space is available at the current rate for airfare, assuming it increases as we get closer to our departure date. https://baptistsonmission.org/bom/armenia/armenia-ar-22-08/5853
South Africa/ Door of Hope
I will be leading a team to work at Door of Hope Village near Johannesburg on November 10 – 20. Door of Hope is an infant rescue ministry that began in 1999 and which has since rescued over 1800 children. We will help build cottages that will each house 6-8 children and a host couple on the Door of Hope Village property. The projected price is $1800 per person for this trip.
Rebuild Centers
Our Rebuild Centers are all very active in repairing and rebuilding homes that were damaged by Hurricane Florence and TS Fred. The Haywood County site has been invited to build as many as seven (7) new homes in Haywood county in the next nine months. This is an excellent way to mobilize your churches to help put lives back together, impact the area devastated by TS Fred in August 2021, and offer relief for today and hope for tomorrow.
https://baptistsonmission.org/haywood
Ukraine Bread Ministry
We are able to provide bread for Internally Displaced People (IDPs) in Ukraine for $1 per person per day. Please share this opportunity with your churches and invite them to join in this life-changing ministry. There are many stories of answered prayer, miracles, and hundreds of salvations as a result of these loaves of bread, each delivered with a gospel tract.
https://baptistsonmission.org/ukraine-crisis/donations
Paul Langston / 919-459-5611 (office) or 919-604-4778 (mobile)
Gardner-Webb School of Divinity Offers New Master's in Bible and Theology
Students Can Earn Degree to Strengthen Their Ministry and Gain Deeper Understanding of Scripture
BOILING SPRINGS, N.C.—The Gardner-Webb School of Divinity is offering a new program in the 2022 Fall Semester. The Master of Arts in Bible and Theology (MABT) is a 36-credit hour concentrated curriculum, providing biblical and theological knowledge to guide others into a deeper understanding of scripture and Christian theology. Up to 17 hours of the 36-hour degree may be taken online.
School of Divinity Dean and Professor of Theology Dr. Robert Canoy expressed his excitement over this new educational opportunity. "The MABT is for men and women who are interested in growing in their calling and in their professional futures," Canoy observed. "Because ministry today takes various shapes, this new degree is an essential component that will elevate both new and long-term ministers. Focusing specifically on Bible and theology, we look forward to welcoming new students this coming fall who can earn their master's degree in as few as three semesters (excluding summers)."
For more information, about the MABT, contact McConnell at
jmcconnell@gardner-webb.edu
or (704) 406-3884 or Canoy at rcanoy@gardner-webb.edu or (704) 406-4395.
One of our churches is in need of an older 15 passenger van to be used for the Lord's work. Please share this and help get the word out here in our county. It would be awesome if someone has one to donate or to sell at a good price to be in service for our Lord. Thanks! Call the office at 828-559-0224 if you can help with this need.
REPLENISH: A TREAT FOR PASTORS & THEIR FAMILIES
September 5-7, 2022
NC Baptist Assembly at Fort Caswell
The "Replenish" retreat for pastors and their families is designed to help pastors replenish their marriage, their ministry and their mission.
Through encouraging teaching and free time together, pastors and their wives can learn and apply principles for restoring joy and passion to their marriage, family and ministry at the beautiful coastal setting of Fort Caswell.
Cost: $99 per room (Lodging will be at Smith Conference Center)
FRUITLAND OFFERING FREE TUITION
Free tuition is limited to the fall 2022 quarter for new students attending the Hendersonville campus. Student fees, room, board and books are not included in tuition cost.
VACATION BIBLE SCHOOL
CHERRY SPRINGS BAPTIST is having VBS on Friday, July 8 5:30-8:30 pm and Saturday, July 9th 8:30 am through 4:00 pm.
BETHLEHEM BAPTIST will be having VBS Sunday, July 24-Thursday July 28 from 6:00 pm to 9:15 pm with supper every evening. On Friday, July 29th at 6:00 pm they will have graduation, inflatables and a meal.
BETHEL BAPTIST will be having VBS on Sunday, July 31-Thursday, August 4th from 6 pm to 8:30 pm each evening. A meal will be provided each night. They will have classes for nursery through adult.
GRACE COMMUNITY CHURCH will be having VBS beginning on Sunday, July 31st through Thursday, August 4th from 5:30 pm until 8:30 pm nightly. There will be classes from nursery through 5th grade.
FRIENDSHIP BAPTIST will be having VBS beginning on Thursday, August 4th through Saturday, August 6th from 6 pm until 8 pm nightly.
CLINCHFIELD BAPTIST is having VBS Sunday, July 17 through Monday July 21 from 6 pm to 8:30 pm each night.
GREENLEE BAPTIST will be having VBS on Monday, July 25 through Friday, July 29th from 6pm to 8:30 pm nightly.
IRS Increases Mileage Rate for the Remainder of 2022
The IRS is adjusting the standard mileage rates to better reflect the recent increase in fuel prices. While fuel costs are a significant factor in the mileage figure, other items enter into the calculation of mileage rates, such as depreciation, insurance, and other fixed and variable costs.
Mileage Rate Changes:
Purpose Rates 1/1 – 6/30/2022 Rates 7/1 – 12/31/2022
Business 58.5 62.5
Medical/Moving 18 22
Charitable 14 14
North Carolina Missions Offering North Carolina Missions Offering (NCMO) is a special offering received during the month of September that supports the ministries of Baptists on Mission, Church Planting, mission camps, associational projects and mobilization ministry projects. NCMO is your opportunity to impact lostness as God accomplishes many wonderful things through these various ministries. Please start now promoting this offering to your church. The theme for 2022 is "Relief for today. Hope for tomorrow." The offering goal is $2.1 million.